Bio
Jake Hulse is one of the founding members of Happy Wasteland Studios and he most recently directed his narrative feature debut Heroes Don't Come Home which was an official selection of the 2016 Dances with Films Festival.
He has been writing and directing films since his first claymation movies in middle school. Jake started his filmmaking career at the concession counter of his local cineplex. He'd begged them to let him be an usher, but he wasn't old enough and the closest he ever got to working in the theatre was shelling out bags of popcorn in the main lobby. A graduate of Northeastern University, he originally pursued a career in law enforcement, before switching gears to focus more squarely on his filmmaking career.
He served as Director of Photography for Happy Wasteland's first feature film, The Answer, directed by Wade Wofford, which was an official selection of the 2016 Canada International Film Festival.
You can check out Jake's landscape photography here, and follow him on twitter and instagram.
He is currently writing a dark comedy entitled Jumpers and Cutters.
Completed Films
Feature Film: "A chick flick for guys"
Winner, Rising Star Award - Canada International Film Festival
Role: Director of Photography
Feature Film: Post-9/11 Drama
World Premiered @ Grauman's Chinese @ Dances With Film 2016
Role: Director
Produced Screenplays
Heroes Don't Come Home
Drama/Action
Logline: Deep in the woods of Maine, a broken promise made after the September 11th attacks forces two friends to confront the teenagers they were and the men they've become.
Unproduced Screenplays
Jumpers and Cutters
Comedy
Logline: She found him at the edge and accepts the challenge - to find a more epic place to jump off of. A story about survival.
Semblance
Episodic Sci-Fi Horror Series (5 seasons) - co-written with Wade Wofford / currently in progress
Logline: To come once script is completed, but this thing is 12 episodes of intriguing-as-hell, and a great twists-and-turns ride.
For more information on any of the above scripts, contact jake at happywasteland dot com.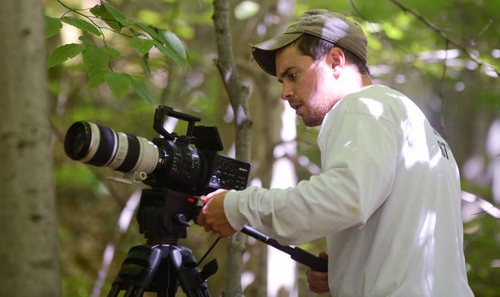 On location for "The Answer"