Bio
In 2013, Michael created the visual FX for Happy Wasteland's first feature film, The Answer. Some of the FX on that film included a car crash, painting out crew and adding cg rain to scenes. In that same year, he worked on Dark Origins as a VFX artist creating a CG monster from scratch. Dark Origins went on to win Best Narrative Short at Fright Night Film Fest and Best Narrative Short at LA Cinema Festival of Hollywood.
In 2014 Michael became heavily involved with Heroes Don't Come Home, Happy Wasteland's second feature film, acting as a Producer and providing visual effects. He was there from the very first pre-production meeting to the final edit. He was involved with scheduling, hiring and managing crew, as well as being involved heavily in post on the VFX side. One of the more critical and challenging aspects was creating a realistic war sequence that had several elements ranging from muzzle flashes to large explosions. Michael employed the use of many programs (Maya, Houdini, 3ds Max, Mudbox; as well as custom scripts and plugins) in order to complete all of the shots.
Michael has started production on an animated short, Satan's Bounty Hunter, that follows the story of an angel that rebels, inciting an angel war during the crucifixion. He will be responsible for writing, directing and producing this short.
Completed Films
Feature Film: "A chick flick for guys"
Winner, Rising Star Award - Canada International Film Festival
Role: VFX, Partner of Production Company
Feature Film: Post-9/11 Drama
World Premiered @ Mann's Chinese @ Dances With Film 2016
Role: Producer, VFX, Partner of Production Company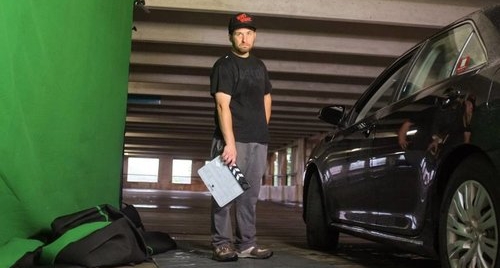 As VFX Coordinator on The Answer
Completed Screenplays
THE COLLECTORS
Family/Adventure - Indiana Jones meets Spy Kids
Logline: A dysfunctional family of archeologists must track down treasure hunters seeking Atlantis in order to ensure the safety of their son.
BELIEVE
Family/Drama/Christmas - Miracle on 34th Street at a Christmas tree farm
Logline: A failing Christmas tree farm hires a Santa to help out. To their surprise he really is Santa and only those who believe can see him.
THE INVADERS
Sci-Fi/Family - Goonies meets Invasion of the Body Snatchers
Logline: A mismatched crew of thirteen year old boys can't seem to do anything right, except save their town from body snatching aliens.
WHISPER
Sci-fi/Mystery/Family
Logline: A nine year old filmmaker befriends a magical mute hiding in his basement.
Taming the buffalo
Action/Adventure - Crouching Tiger with characters that turn into their corresponding Zodiac sign
Logline: An ancient order of Zodiac Monks find hope in a simple farmer.
FAMILY TREE
Supernatural/Mystery/Drama
Logline: Three lives intersect. A gypsy escaping Poland during the German Blitzkreig. An autistic woman institutionalized in the 1950's. And a modern teenager trying to piece it all together.
apparition station
Supernatural/Family
Logline: A teenager and his younger brother discover a train station where ghosts are brought for redemption.
For more information on any of the above scripts, contact mike at happywasteland dot com.